2017 Dubai International Baja (March 9-11)
Chabot and Domzala reach Dubai Baja finish in fourth and sixth places
Van Loon hits transmission trouble but recovers to set fourth quickest time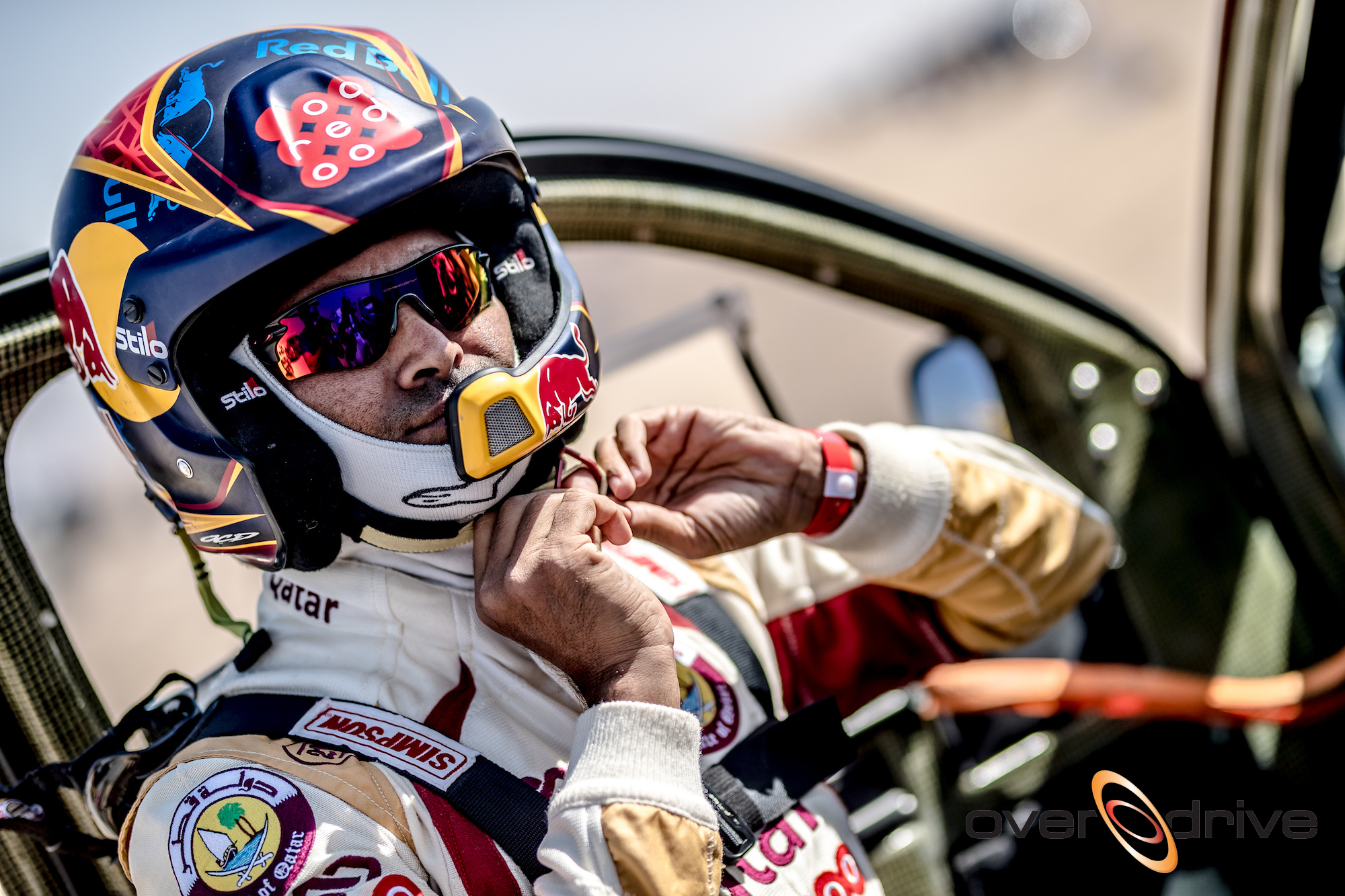 DUBAI (UAE) – Qatar's Nasser Saleh Al-Attiyah and French navigator Matthieu Baumel began the defence of their FIA World Cup for Cross-Country Rallies title in perfect style with a convincing victory in the inaugural Dubai International Baja.
The potent duo dominated last year's championship in their Overdrive Racing Toyota Hilux and followed up five successive victories in 2016 with their first win of the new season on the challenging two-day desert event laid on across the Al-Qudra Desert by the Automobile and Touring Club of the United Arab Emirates.
Al-Attiyah won all three selective sections to finish 14min 57sec in front of Abu Dhabi-based runner-up Sheikh Khalid Al-Qassimi. "It's great to get the season off to a winning start and especially sweet to record a victory in this event," said the two-time Dakar Rally winner.
Capping another successful weekend for Belgium-based Overdrive Racing, the French pairing of Ronan Chabot and Gilles Pillot completed the event in fourth overall after overtaking Czech driver Miroslav Zapletal in the final stage.
Aron Domzala and fellow Polish navigator Szymon Gospodarczyk arrived in the Middle East with the early lead in the FIA World Cup points' standings, following their victory in an Overdrive Racing Toyota in the Republic of Karelia in Russia last month. They crossed the finish ramp in sixth overall and maintain their lead over Al-Attiyah in the FIA World Cup standings.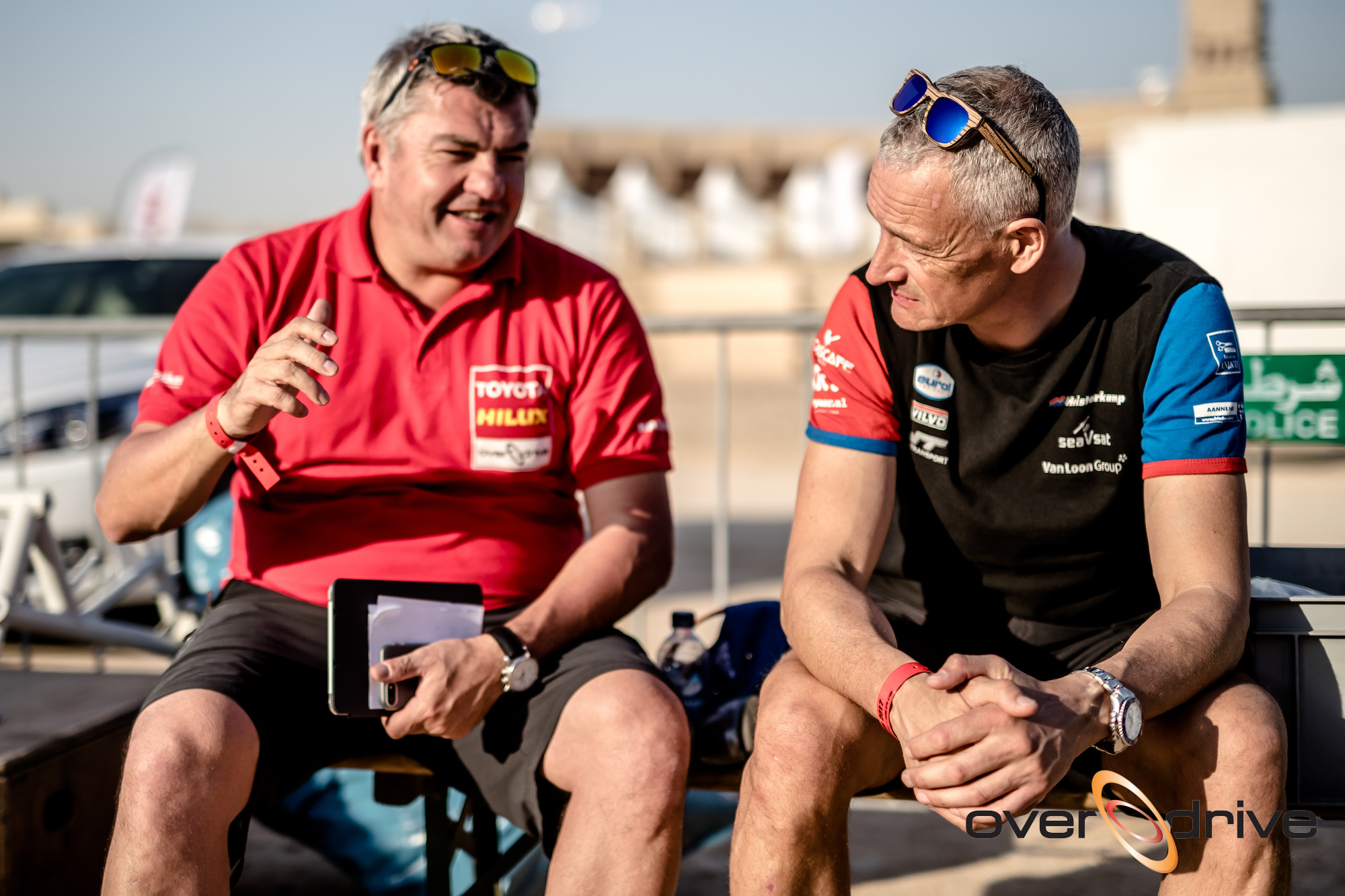 First stage transmission problems ruined Erik Van Loon's and Wouter Rosegaar's chances of reaching the podium, but the Dutch crew pressed on with their repaired Toyota over the final day and were rewarded with the fourth quickest time in the final selective section and a place inside the top 20.
"This is another great result for Overdrive Racing and a perfect start to the new season for Nasser and Matthieu, as they try to defend their FIA World Cup crown with the Toyota Hilux," said Overdrive Racing's CEO Jean-Marc Fortin. "All four of our cars were competitive from the start and we had three cars inside the top six and a fourth quickest time on the final stage for Erik van Loon after his issues on Friday."
The inaugural Dubai International Baja was based at the Bab Al-Shams Arena and featured three special stages over two days in the Al-Qudra desert. Friday's action consisted of stages of 91.66km and 82.24km in length, with the event drawing to a conclusion the following day after a longer timed section of 174.20km.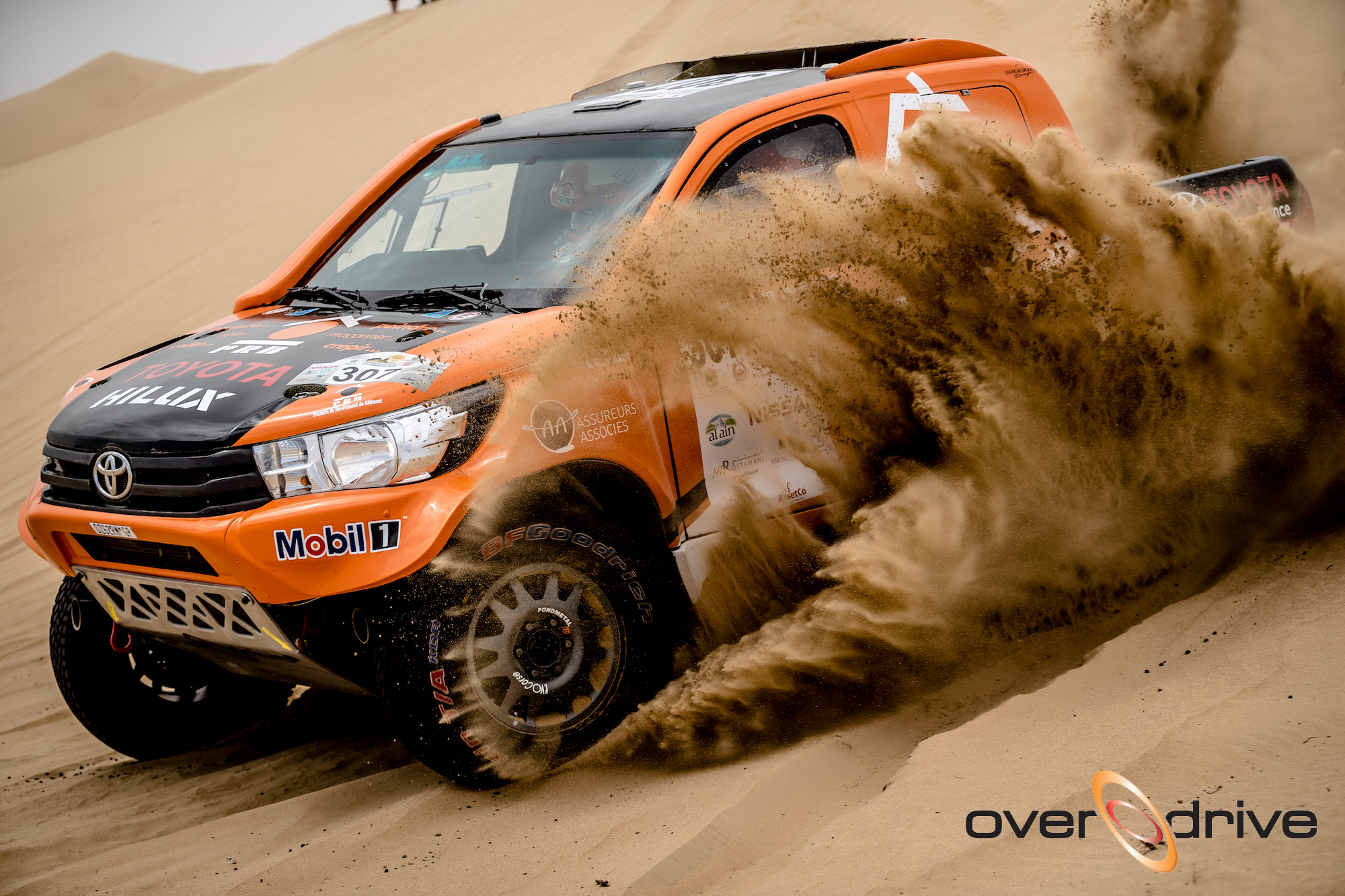 Al-Attiyah restarted where he left off last season and cruised to the fastest time through the opening section to snatch a 4min 14sec advantage over his old rallying adversary Sheikh Khalid Al-Qassimi. Chabot and Domzala were sixth and seventh, but Van Loon suffered transmission issues at the start and was sidelined.
There was no respite for his rivals through the shorter second section and Al-Attiyah reached the night halt with a lead of 6min 12sec after setting another fastest time in his Toyota Hilux. Chabot and Domzala produced two consistent performances to hold fifth and seventh, as Overdrive Racing technicians repaired Van Loon's transmission to enable the Dutchman to start the third and final stage of 174.20km.
Al-Attiyah stayed out of trouble to record a time of 1hr 57min 19sec through the final kilometres to secure the victory with ease and a crucial haul of 30 championship points as he bids to retain his FIA World Cup crown.
Chabot made up somewhat for his premature exit from the Dakar Rally with a solid fourth position in the second Overdrive Toyota and Domzala recorded the seventh quickest time to climb a place at the expense of Vadym Prytuliak and snatch sixth overall.
Van Loon produced a potent final stage performance to record the fourth quickest time, but the damage had been done on Friday.
Overdrive Racing now prepares for a hectic few weeks with three FIA World Cup rounds on the horizon in Abu Dhabi, Qatar and Kazakhstan.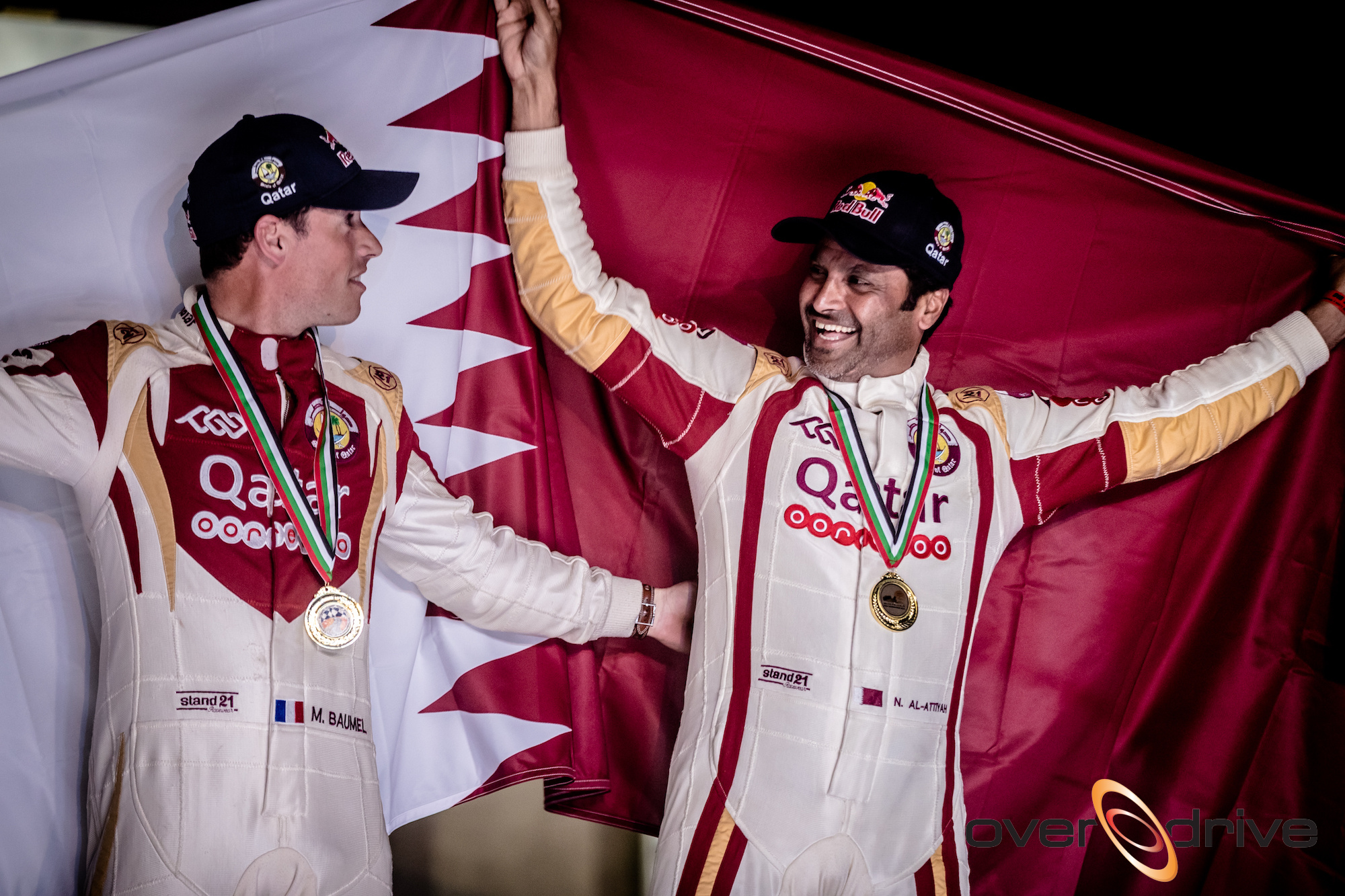 Dubai International Baja – final results:
1. Nasser Saleh Al-Attiyah (QAT)/Matthieu Baumel (FRA) Toyota Hilux Overdrive 3hr 55min 46sec
2. Khalid Al-Qassimi (ARE)/Khalid Al-Kendi (ARE) Peugeot 2008 DKR 4hr 10min 43sec
3. Mohammed Abu Issa (QAT)/Xavier Panseri (FRA) Mini All4 Racing 4hr 18min 53sec
4. Ronan Chabot (FRA)/Gilles Pillot (FRA) Toyota Hilux Overdrive 4hr 26min 57sec
5. Miroslav Zapletal (CZE)/Marek Sykora (SLO) Hummer H3 Evo VII 4hr 29min 09sec
6. Aron Domzala (POL)/Szymon Gospodarczyk (POL) Toyota Hilux Overdrive 4hr 47min 23sec
7. Vadym Prytuliak (UKR) Polaris RZR 1000 T3 4hr 49min 06sec
8. Ahmed Al-Maqoodi (ARE)/Obaid Al-Kitbi (ARE) Polaris RZR 1000 4hr 49min 15sec
20. Erik Van Loon (NED)/Wouter Rosegaar (NED) Toyota Hilux Overdrive 11hr 27min 23sec
FIA World Cup for Cross-Country Rallies – standings after round 2 (unofficial):
1. Aron Domzala (POL) 41pts
2. Nasser Saleh Al-Attiyah (QAT) 30pts
3. Viktor Khoroshavtsev (RUS) 21pts
3. Khalid Al-Qassimi (ARE) 21pts
5. Vladimir Frolov (RUS) 16pts
5. Mohammed Abu Issa (QAT) 16pts
7. Ronan Chabot (FRA) 15pts
7. Yasir Saeidan (SAU) 15pts
9. Miroslav Zapletal (CZE) 12pts
9. Vladimir Vasilyev (RUS) 12pts, etc