Qatar Cross-Country Rally (April 17-22, 2017)
· Impressive Leeroy Poulter finishes third on Qatar debut in Toyota GAZOO car
· Sixth and ninth for Dutchman Erik Van Loon and Poland's Aron Domzala
LOSAIL (QATAR): Overdrive Racing and Nasser Saleh Al-Attiyah returned to winning ways to claim a hard-earned victory in the Qatar Cross-Country Rally, round four of the FIA World Cup for Cross-Country Rallies, which finished at Losail on Saturday.
After leading on day one, Al-Attiyah and Baumel hit technical trouble on the second of five stages and were forced to climb back from sixth place. The Toyota Hilux crew ran without making any major mistakes through the final desert section to reach the finish 7min 02sec in front of Poland's Jakub Przygonski.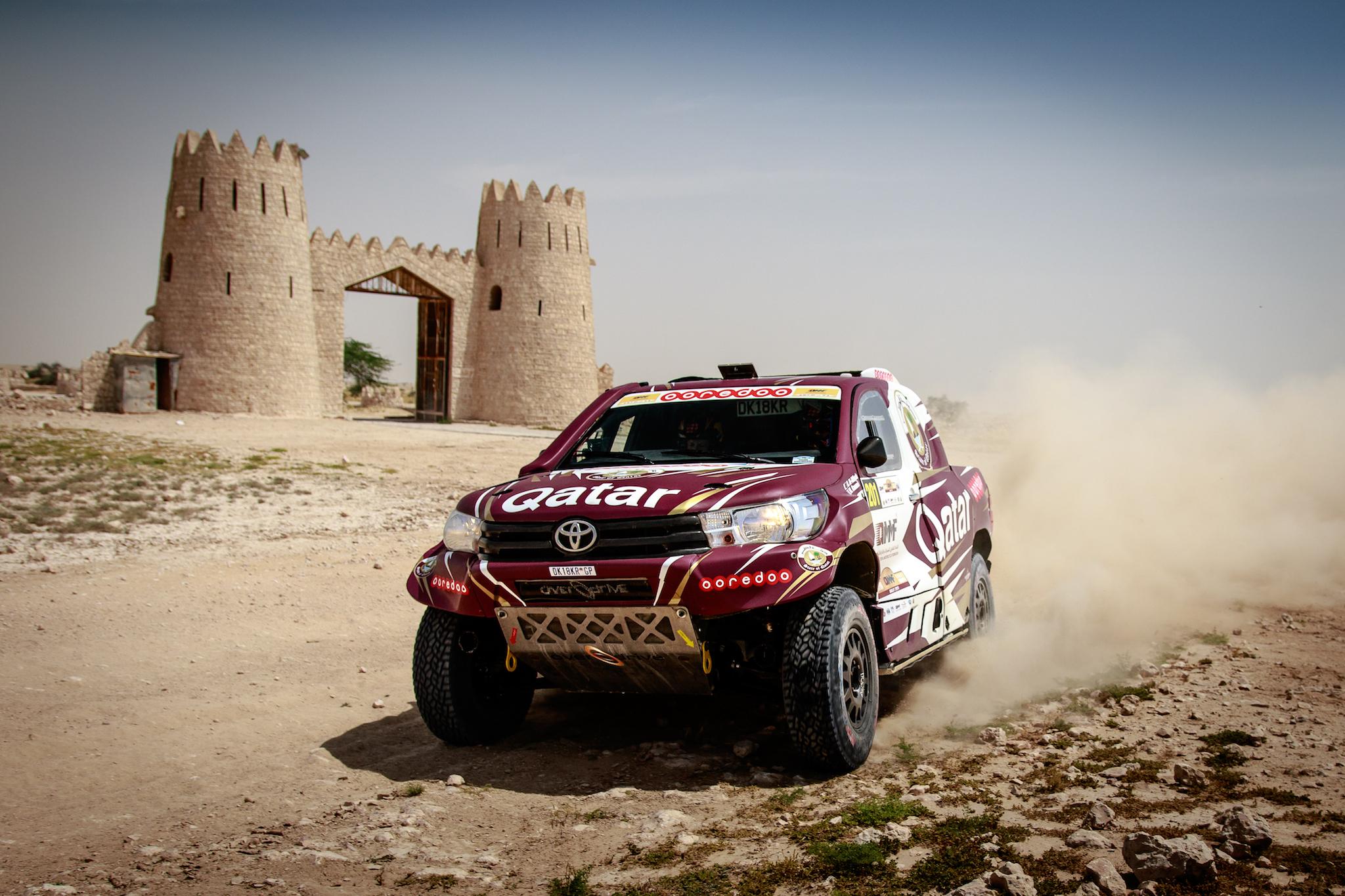 "Today we tried to take care," said Al-Attiyah. "We had a few problems. We try to fix and continue and then, in the last part, in the dunes, we have a puncture and we don't have the jack working. We put the car on a small hill and we change it and it takes around four minutes. After that, we did good navigation and we catch everybody. It was important to win here. Everybody had some small problems today but this is a good result for my championship and it's always nice to win at home."
Toyota GAZOO Racing South Africa's Leeroy Poulter has never competed in the Middle East before. He and German co-driver Dirk von Zitzewitz produced an impressive display to finish third and just missed out on second place on an event that featured difficult navigation and varied desert terrain held in extremely windy conditions and inclement temperatures.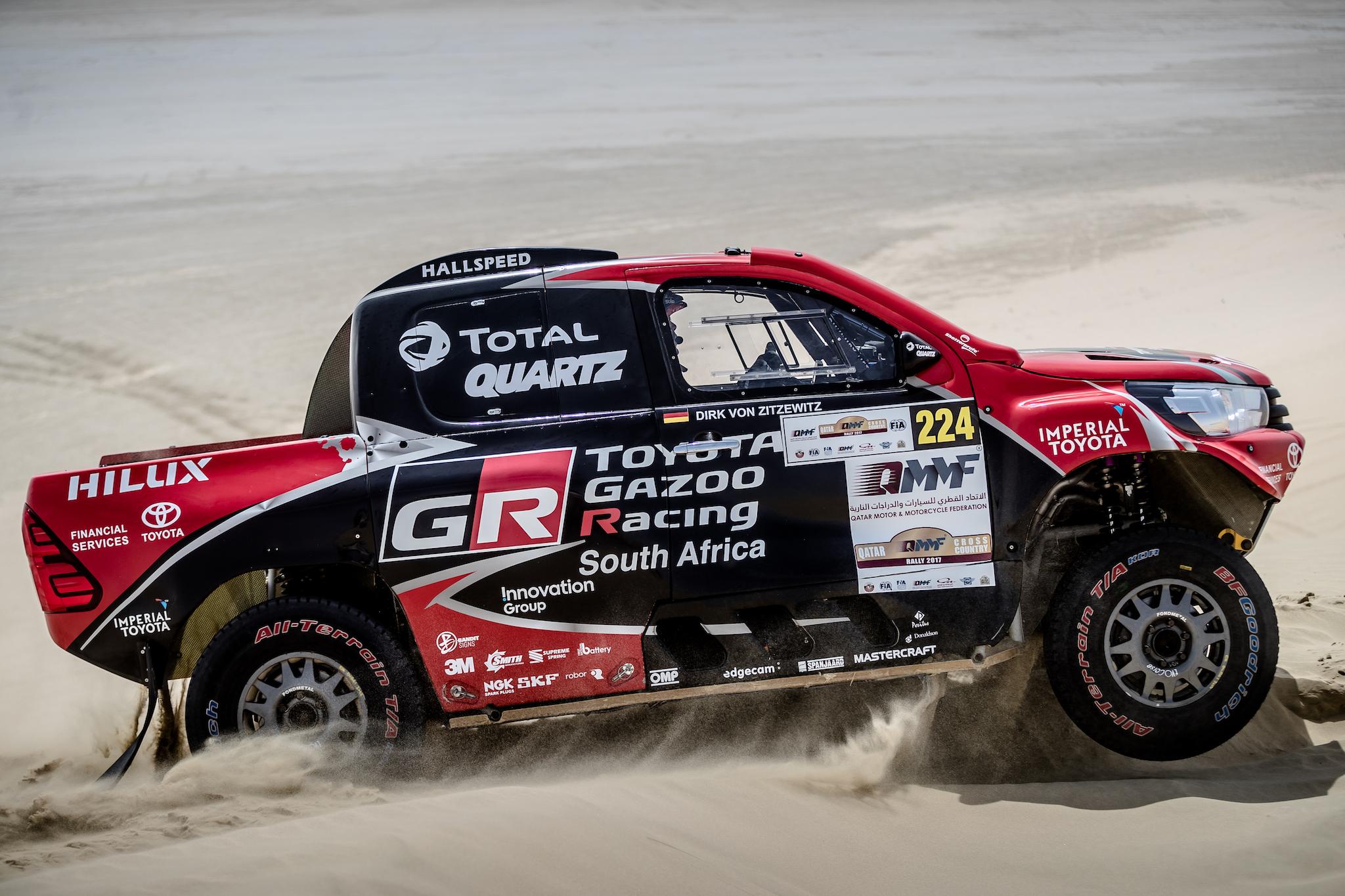 "We had a good day and it's capped a great week to be honest," said Poulter. "We opened the road all day on the last stage. That was quite tough. In the dunes at the end we reversed back in one place and got stuck on some camel grass. It cost us a couple of minutes but, all in all, it was good. Dirk and I are working together for the first time and that worked well."
The Dutch crew of Erik Van Loon and Wouter Rosegaar produced another solid performance in the second of the Overdrive Racing cars to finish sixth overall, despite a series of flat tyres Aron Domzala and Szymon Gospodarczyk bounced back from their recent Abu Dhabi Desert Challenge disappointment to reach Losail in ninth, although the crew struggled at times with the navigation and lost a lot of time.
"We did not start so well with a small problem for Nasser on the first day," said Overdrive Racing's CEO Jean-Marc Fortin. "But I thank the team because we made a great recovery. It is not easy to discover new stages yesterday and today. Matthieu (Baumel) was cautious and taking it easy. But we are back in the game with 60 points.
"I guess the disappointment of the day was Leeroy (Poulter) losing second place in the dunes at the end. He was comfortable opening the road today, but he got stuck 30km from the finish and that was not quite enough. He did a very good rally and he has made a great recovery from the surgery he had six months ago. He and Dirk did very well.
Erik (Van Loon) suffered a series of flat tyres and we need to analyse this, but he is on his place in sixth. Aron (Domzala) is still learning and lost a lot of time on the rally and that explains why he is so far behind."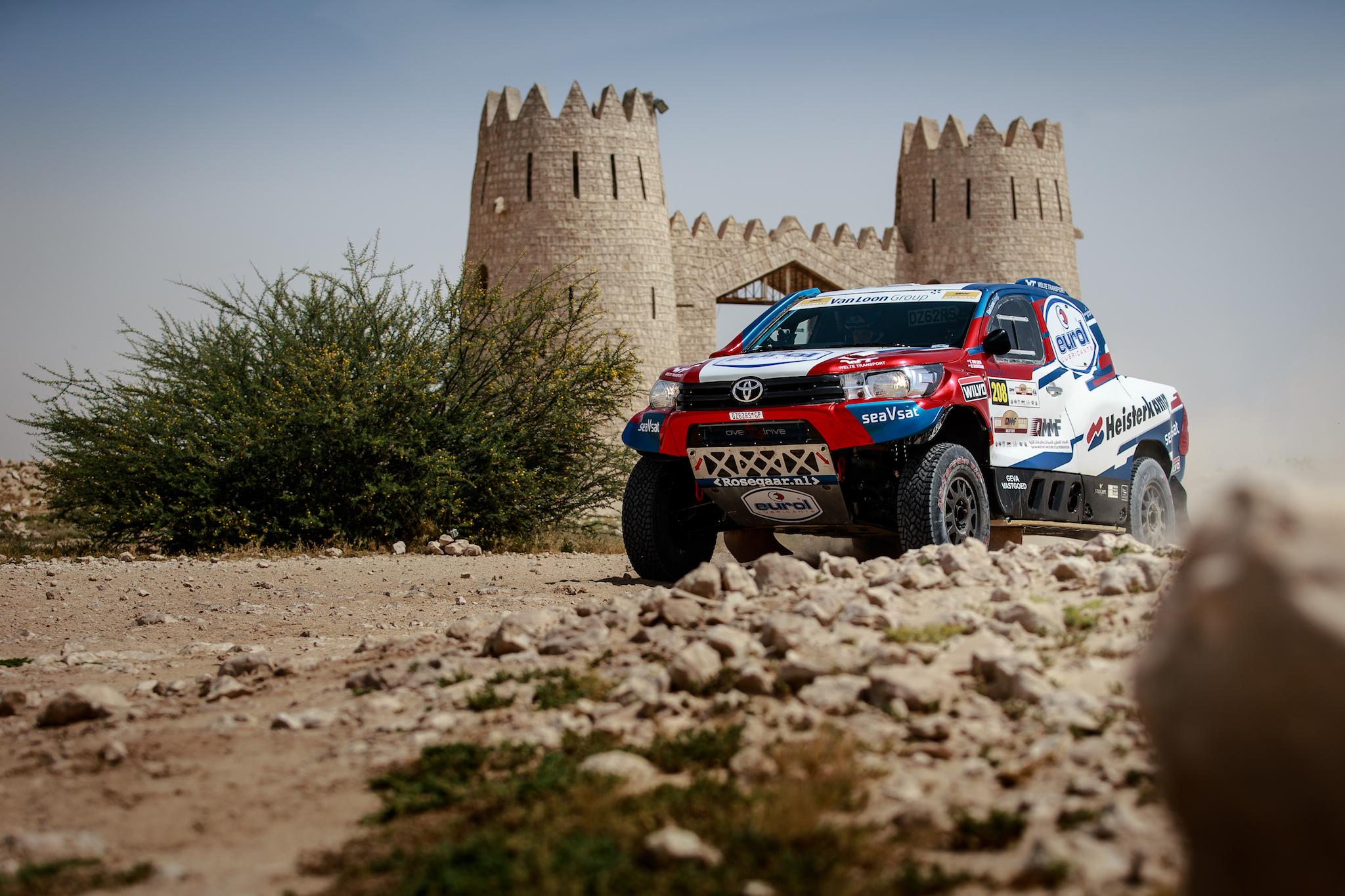 The Overdrive Racing quartet made a strong start to the event through the confines of a 4.85km super special stage at Losail. Al-Attiyah led the way with a 7.9-second lead over Yazeed Al-Rajhi, but Poulter was an impressive third on his first taste of Qatar competition and Domzala and Van Loon were tied in fifth.
The starting order lottery meant that Poulter began the first of the desert stages of 334.08km from second on the road and Van Loon, Domzala and Al-Attiyah were sixth, ninth and 10th.
Al-Attiyah started strongly and led the field through the first two passage controls, but he sustained broken power steering soon 190km from the end and was then forced to finish the stage in third gear after the gear lever broke. The Qatari slipped to sixth place, but Van Loon and Poulter enjoyed an excellent day, despite the tricky navigation, and were classified in fourth and fifth overall. Domzala held 12th overall.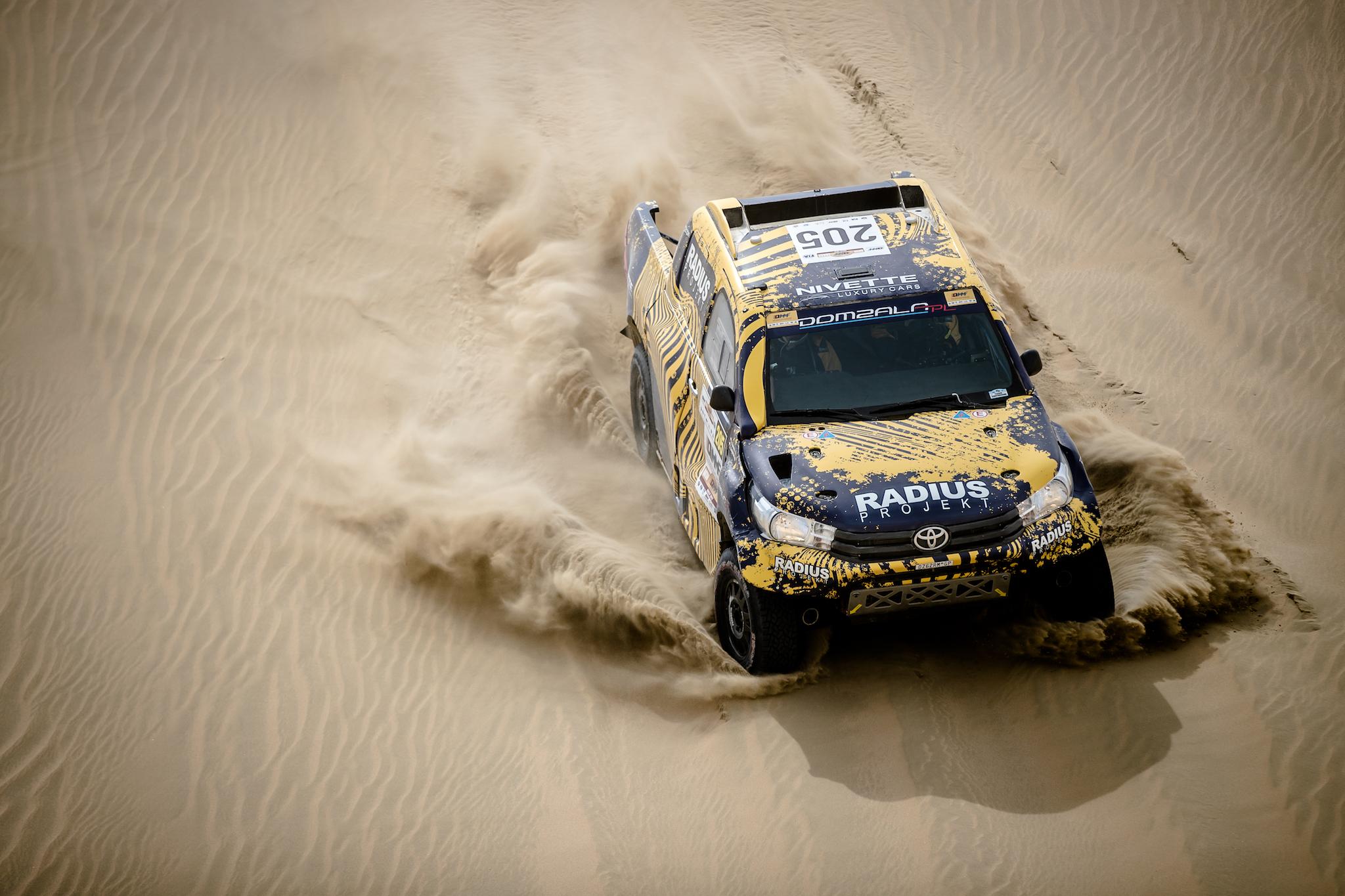 The Overdrive Racing mechanics repaired Al-Attiyah's damaged Hilux overnight and the Qatari repaid them with a stunning performance through the second of the desert stages of 353.08km from Sealine to a finish at Mekaines. The defending champion soon closed in on Yazeed Al-Rajhi and, when the Saudi damaged his car and retired, it opened the door for Al-Attiyah to cruise through to take the stage win and move back into an outright lead of 3min 23.7sec over his equally impressive team-mate Poulter.
The South African recorded the fourth fastest time to hold second place, while Van Loon and Domzala were sixth and seventh and were classified in sixth and eighth overall.
Al-Attiyah opened the road through the third desert stage from a start off the Dukhan highway to a finish at the Al-Shamal stadium in the north of the country. He opted not to push too hard to try and bunch his rivals up as part of his strategy to defend his title and was quite happy to be caught by his rivals and finish the stage in third position.
"Yes, it's close but we did not take any risks," said Al-Attiyah. "We open all the way and we stop for Khalid (Al-Qassimi) to pass. He does not want to pass. I don't know why. After the second time, he never gave me the Sentinel. I stopped to let him pass. We decided to continue to bring everyone together for our strategy."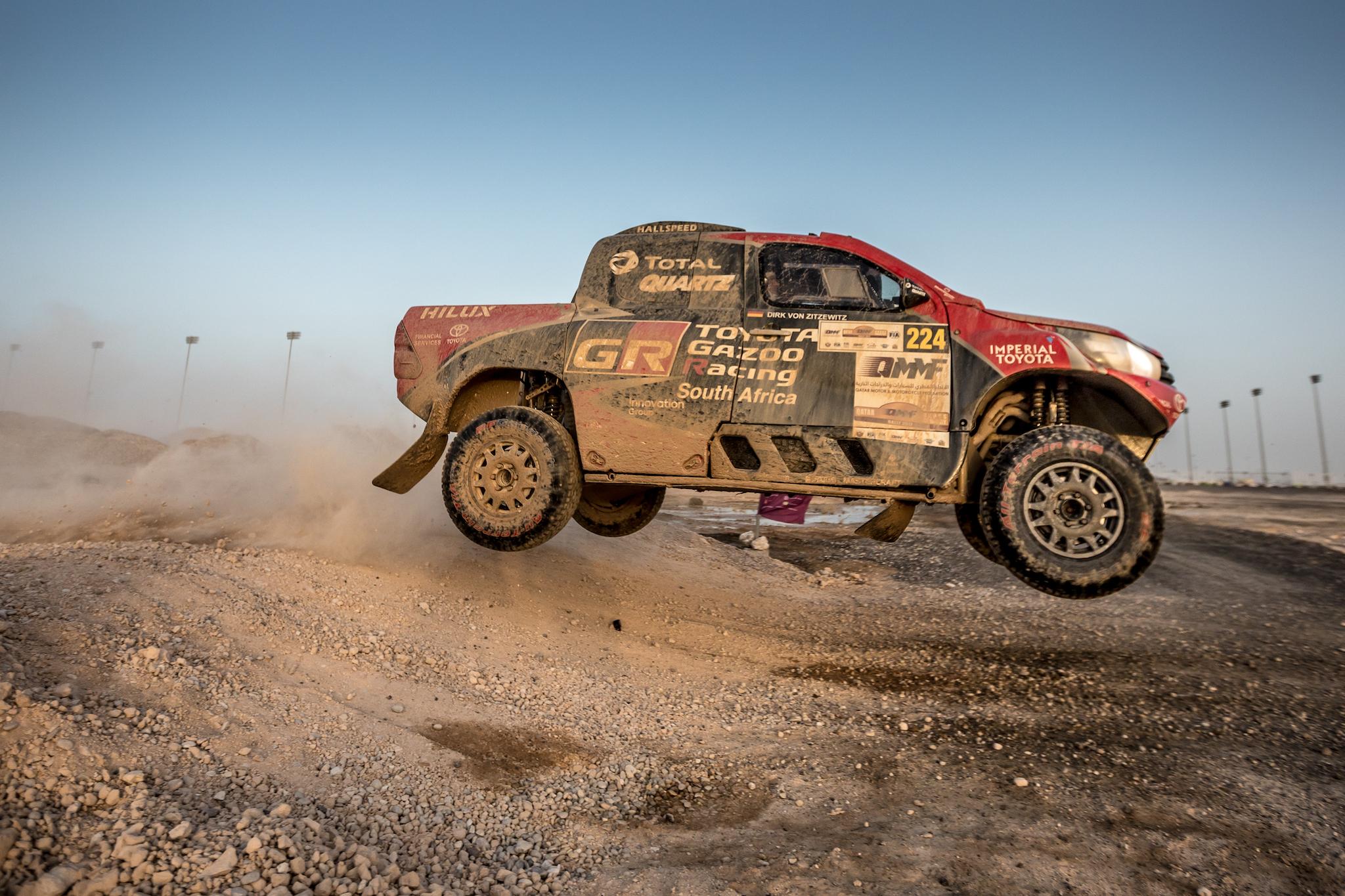 One of those rivals was team-mate Poulter and another impressive stage performance by the South African pushed him to within 2min 56sec of the Qatari heading into the final 343.61km. Van Loon and Domzala were sixth and 13th on the day and held sixth and eighth in the general classification.
Al-Attiyah was handed 3min 02sec back by race officials before the event restarted, because of a GPS issue, and the Qatari shadowed Poulter to the finish defending a lead of 5min 58sec. He reached the finish with a winning advantage of 7min 02sec, although Poulter missed out on second by just 28 seconds after his episode in the dunes.
Qatar Cross-Country Rally – results:
1. Nasser Saleh Al-Attiyah (QAT)/Matthieu Baumel (FRA) Toyota Hilux Overdrive 13hr 48min 09sec
2. Jakub Przygonski (POL)/Tom Colsoul (BEL) Mini All4 Racing 13hr 55min 11sec
3. Leeroy Poulter (ZAF)/Dirk von Zitzewitz (DEU) Toyota Hilux 13hr 55min 39sec
4. Khalid Al-Qassimi (ARE)/Khaled Al-Kendi (ARE) Peugeot 3008 DKR 14hr 02min 41sec
5. Mohammed Abu Issa (QAT)/Xavier Panseri (FRA) Mini All4 Racing 14hr 02min 53sec
6. Erik Van Loon (NLD)/Wouter Rosegaar (NLD) Toyota Hilux Overdrive 15hr 00min 49sec
7. Martin Prokop (CZE)/Jan Tomanek (CZE) Ford F-150 Evo 15hr 49min 39sec
8. Jürgen Schröder (DEU)/Maximilian Schöder (DEU) Nissan Navara 16hr 04min 07sec
9. Aron Domzala (POL)/Szymon Gospodarczyk (POL) Toyota Hilux Overdrive 16hr 11min 18sec
10. Mohammed Al-Mannai (QAT)/Kamal Khoder (QAT) Chevrolet Buggy 17hr 22min 06sec