ASTRAKHAN (RUSSIA) – Monday, July 23: Overdrive Racing's Nasser Saleh Al-Attiyah lost the outright lead of the Silk Way Rally and slipped to third overall on the second half of the shortened Marathon stage between Elista and a return to Astrakhan in southern Russia on Monday morning.
The Qatari and his French navigator Matthieu Baumel had begun the special with an outright lead of 3min 34sec after incurring a one-minute time penalty on Sunday, but they had suffered a transmission issue on the run into Elista and the car had lapsed into two-wheel drive.
With no service support permitted at the night halt the crew could only work on the car themselves with the spare parts carried in the car. Their cause was not helped by the muddy conditions that were far from ideal for a two-wheel drive car.
After only 50km of the stage, Al-Attiyah was trailing leader Harry Hunt by over five minutes with Yazeed Al-Rajhi also ahead of the Toyota.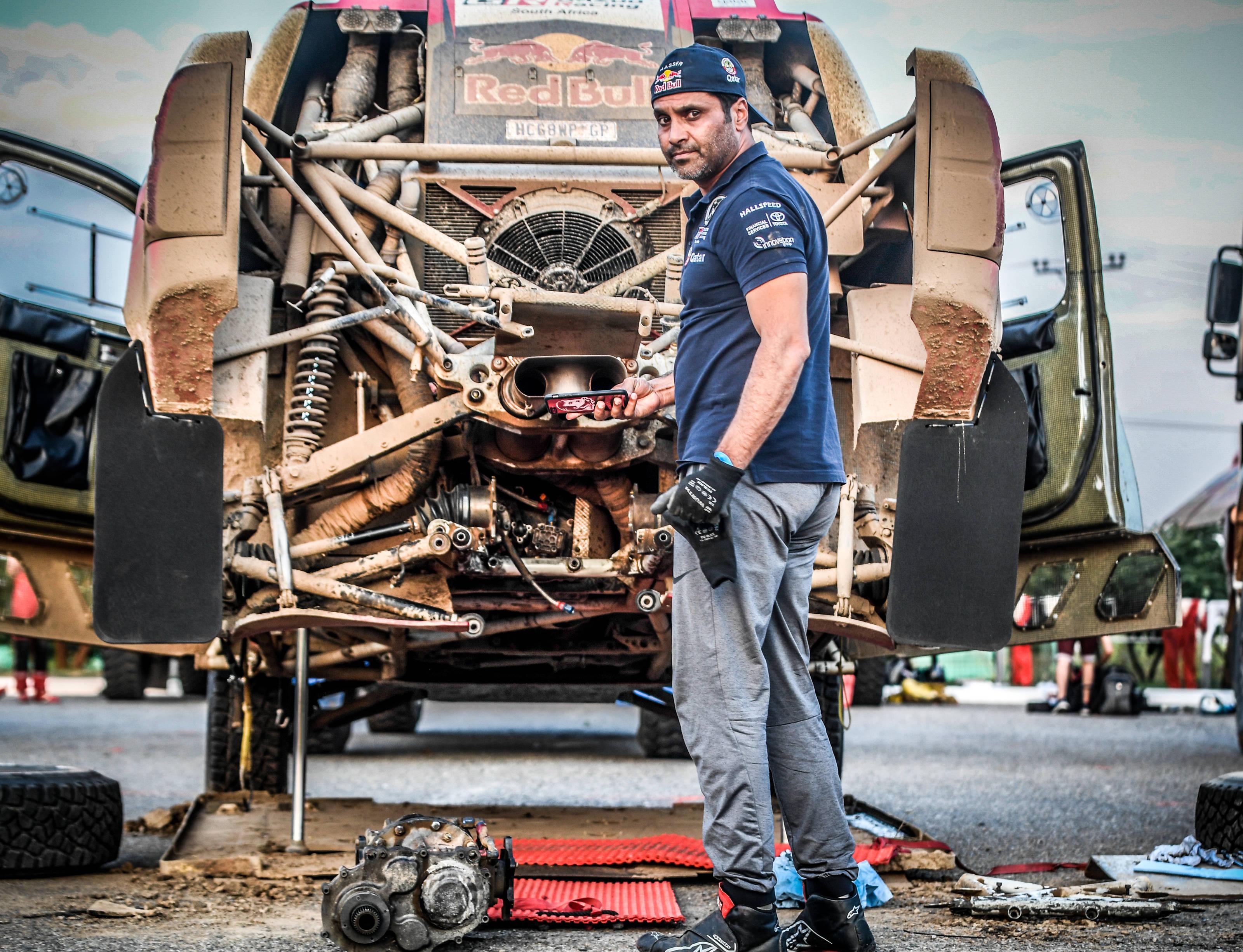 There was no respite and Hunt reached PC1 (140km) in front of both Al-Rajhi and Joan Roma, with Matthieu Serradori in fourth place. Al-Attiyah got bogged down in a treacherous muddy section three kilometres before the checkpoint and was towed out of the quagmire by Russian rivals Andrey Rudskoy and Denis Krotov. The Qatari lost almost one hour at the scene and still had 200km of the stage to run.
Al-Rajhi passed PC2 (215km) at the front of the field and running 11 seconds ahead of Hunt with Roma in third. But heavy rain had been incessant and rally officials decided to cancel the remainder of the stage after PC1 after the leading cars had passed. Teams would head to the bivouac in Astrakhan on a tarmac road section. It was a welcome boost to Al-Attiyah's victory chances, but the Overdrive Racing driver slipped to third place in the unofficial overall rankings.
England's Harry Hunt now leads the event by 20min 50sec from Saudi Arabian driver Yazeed Al-Rajhi.
Al-Attiyah's Silk Way Rally challenge is running with support from Red Bull, the Qatar Motor and Motorcycle Federation (QMMF), Ooredoo Qatar and Toyota GAZOO Racing.
Tomorrow (Tuesday), teams tackle a second loop stage through the Takyr desert around Astrakhan.
2018 Silk Way Rally – positions on SS3 (shortened to 140km – PC1):
1. Harry Hunt (GBR)/Sebastien Delaunay (FRA) Peugeot 3008 DKR 1hrs 15min 34sec
2. Yazeed Al-Rajhi (SAU)/Timo Gottschalk (DEU) MINI John Cooper Works Rally 1hrs 18min 57sec
3. Joan Roma (ESP)/Alex Haro (ESP) MINI John Cooper Works Rally 1hrs 20min 10sec
4. Matthieu Serradori (FRA)/Fabian Lurquin (BEL) MCM Original 1hrs 20min 19sec
17. Nasser Saleh Al-Attiyah (QAT)/Matthieu Baumel (FRA) Toyota Hilux Overdrive 2hrs 15min 18sec
2018 Silk Way Rally – positions after SS3 (unofficial):
1. Harry Hunt (GBR)/Sebastien Delaunay (FRA) Peugeot 3008 DKR 8hrs 08min 42sec
2. Yazeed Al-Rajhi (SAU)/Timo Gottschalk (DEU) MINI John Cooper Works Rally 8hrs 29min 32sec
3. Nasser Saleh Al-Attiyah (QAT)/Matthieu Baumel (FRA) Toyota Hilux Overdrive 9hrs 04min 52sec
4. Matthieu Serradori (FRA)/Fabian Lurquin (BEL) MCM Original 9hrs 14min 02sec
5. Dennis Krotov (RUS)/Dmyrro Tsyro (UKR) BMW X5 9hrs 45min 13sec