VOLGOGRAD (RUSSIA) – Wednesday, July 25: Overdrive Racing's Nasser Saleh Al-Attiyah ceded further time to his rivals on a demanding 445km special stage of the Silk Way Rally between Astrakhan and Vologograd on Wednesday.
A broken drive shaft and ongoing differential issues had cost the Qatari and his French navigator Matthieu Baumel any realistic chance of taking a first victory over the previous three days and the Toyota Hilux driver started the day 55min 54sec behind overall leader Yazeed Al-Rajhi. He retained third overall after the day's stage, but a minor map sensor issue means he now trails the leader by 1hr 27min 23sec.
Al-Rajhi now has a comfortable lead of 1hr 14min 07sec over Frenchman Matthieu Serradori with two long stages remaining on the run north to a finish in Moscow on Friday. The stage win fell to Spaniard Joan Roma in a time of 4hrs 13min 07sec.
Stage three winner Serradori led the car contingent into the stage. Al-Attiyah followed in seventh – 12 minutes behind the stage opener – and Hunt started in 11th after oil pressure problems cost the Englishman even further time on the Astrakhan loop stage and he slipped to sixth in the overall rankings.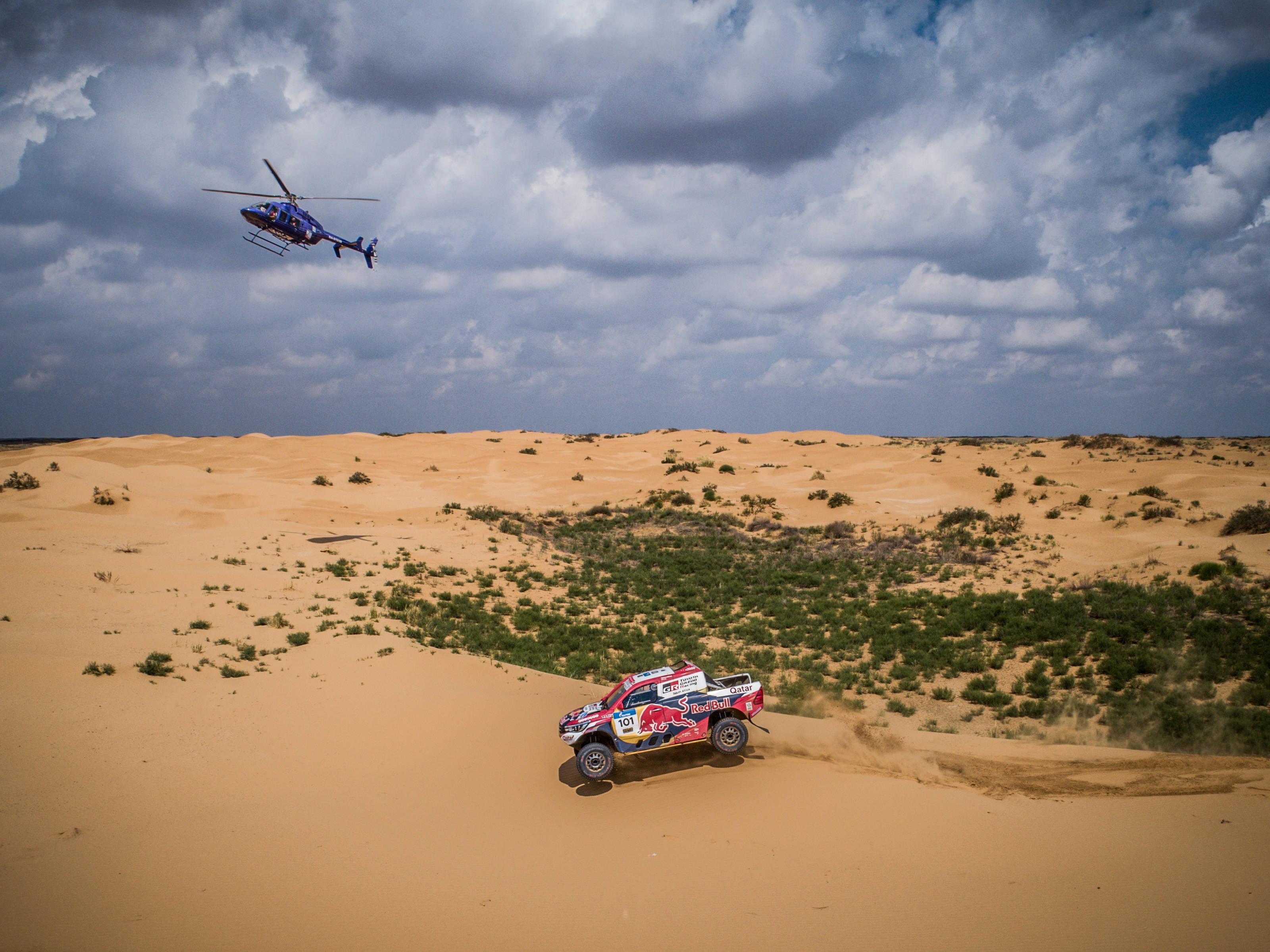 Andrey Rudskoy shed a wheel and lost chunks of time after just 13km of the day's special and Hunt was running as the quickest driver in the stage from Al-Attiyah and Roma after 100km. But Al-Attiyah's run of misfortune continued and, following a stoppage for Hunt after 166km, the Qatari also ground to a halt eight kilometres further into the stage with the niggling map sensor issue. Rally leader Al-Rajhi was the main beneficiary and the Saudi led from Roma and Serradori after 223km.
Al-Attiyah regained the stage after stopping for around half an hour, but Hunt's problems seemed more serious and the former rally leader remained stationary after 166km. Serradori lost time over the final kilometres and was forced to stop and clean his clogged windscreen wipers, as Roma pipped Al-Rajhi to the stage win.
Al-Attiyah's Silk Way Rally challenge is running with support from Red Bull, the Qatar Motor and Motorcycle Federation (QMMF), Ooredoo Qatar and Toyota GAZOO Racing.
Tomorrow (Thursday) crews leave the city of Volgograd and continue a demanding path north towards Moscow with a special stage to Lipetsk – a city in the Lipetsk Oblast on the banks of the Voronezh River in the Don basin that lies 438km south-east of the capital.
2018 Silk Way Rally – positions on SS5:
1. Joan Roma (ESP)/Alex Haro (ESP) MINI John Cooper Works Rally 4hrs 13min 07sec
2. Yazeed Al-Rajhi (SAU)/Timo Gottschalk (DEU) MINI John Cooper Works Rally 4hrs 16min 23sec
3. Matthieu Serradori (FRA)/Fabian Lurquin (BEL) MCM Original 4hrs 44min 01sec
4. Nasser Saleh Al-Attiyah (QAT)/Matthieu Baumel (FRA) Toyota Hilux Overdrive 4hrs 47min 52sec
2018 Silk Way Rally – positions after SS5 (unofficial @12.30hrs):
1. Yazeed Al-Rajhi (SAU)/Timo Gottschalk (DEU) MINI John Cooper Works Rally 19hrs 04min 32sec
2. Matthieu Serradori (FRA)/Fabian Lurquin (BEL) MCM Original 20hrs 16min 59sec
3. Nasser Saleh Al-Attiyah (QAT)/Matthieu Baumel (FRA) Toyota Hilux Overdrive 20hrs 31min 55sec