LIPETSK (RUSSIA) – Thursday, July 26: Overdrive Racing's Nasser Saleh Al-Attiyah bounced back strongly from his time delay on Wednesday to set the fastest time on the penultimate stage of the Silk Way Rally between Vologograd and Lipetsk on Thursday.
The Qatari and French navigator Matthieu Baumel set a time of 3hrs 27min 29sec for the 318km special in the longest day's route of the rally (766.78km) to take into the long liaison to the overnight halt. He managed to beat stage runner-up Joan Roma by 7min 08sec.
The result enabled Al-Attiyah to climb back to second position in the overall rankings after Frenchman Matthieu Serradori stopped on the stage with his own technical issues for over 40 minutes. The Toyota Hilux driver now trails leader Al-Rajhi by 1hr 11min 37sec.
"It has not been easy over the last few days," said Al-Attiyah. "We seemed to make up time and lose it again with niggling problems. But it was nice to get a stage win under our belts today and now we can push on to Moscow and try and win the final stage on Friday."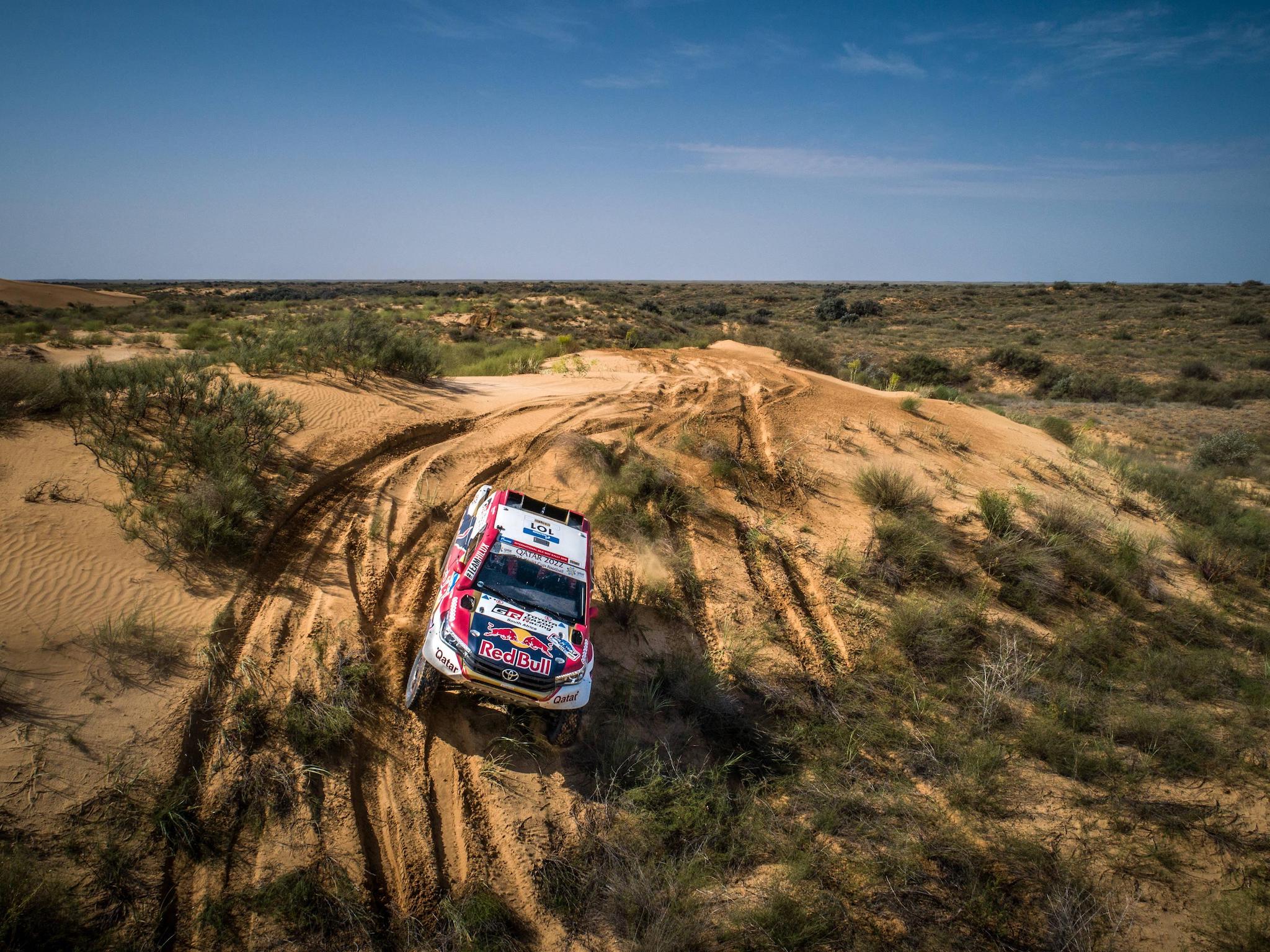 Al-Attiyah began the penultimate stage to Lipetsk 1hr 27min 23sec behind the leading Saudi, as Roma headed into the timed section followed by Al-Rajhi and Serradori. The Qatari was on a charge from the outset and he overtook Serradori before 50km and was the fastest driver on the track.
The Frenchman stopped with his own technical problems after 100km and Al-Attiyah reached the PC1 checkpoint, after 112km, leading the stage by 2min 37sec from Roma and 6min 46sec from Al-Rajhi.
Denis Krotov had rolled his BMW X3 out of a top five position near the end of the stage on Wednesday and his demise, along with ongoing gearbox issues for Harry Hunt, had lifted Russian driver Serge Karakin into firth place at the start of the stage.
Al-Attiyah managed to pass Al-Rajhi in the closing sections of the stage and reached the finish behind Roma to record a first stage win since the opening day. Roma, Al-Rajhi and a resurgent Hunt filled the minor places on the day's stage, but Serradori stopped again and ceded over two hours to the leaders.
Al-Attiyah's Silk Way Rally challenge is running with support from Red Bull, the Qatar Motor and Motorcycle Federation (QMMF), Ooredoo Qatar and Toyota GAZOO Racing.
Tomorrow (Friday) crews tackle a final stage between Lipetsk and the Russian capital of Moscow before the ceremonial finish in Red Square.

2018 Silk Way Rally – positions on SS6:
1. Nasser Saleh Al-Attiyah (QAT)/Matthieu Baumel (FRA) Toyota Hilux Overdrive 3hrs 27min 29sec
2. Joan Roma (ESP)/Alex Haro (ESP) MINI John Cooper Works Rally 3hrs 34min 37sec
3. Yazeed Al-Rajhi (SAU)/Timo Gottschalk (DEU) MINI John Cooper Works Rally 3hrs 43min 08sec
4. Harry Hunt (GBR)/Sebastien Delaunay (FRA) Peugeot 3008 DKR 3hrs 43min 21sec
2018 Silk Way Rally – positions after SS6 (unofficial @13.30hrs):
1. Yazeed Al-Rajhi (SAU)/Timo Gottschalk (DEU) MINI John Cooper Works Rally 22hrs 47min 47sec
2. Nasser Saleh Al-Attiyah (QAT)/Matthieu Baumel (FRA) Toyota Hilux Overdrive 23hrs 59min 24sec
3. Matthieu Serradori (FRA)/Fabian Lurquin (BEL) MCM Original AWAITED