MOSCOW (RUSSIA) – Friday, July 27: Overdrive Racing's Nasser Saleh Al-Attiyah claimed the third quickest time on the final stage of the Silk Way Rally between Lipetsk and Moscow on Friday and confirmed second overall in the general classification.
The Qatari and French navigator Matthieu Baumel set a time of 58min 02sec on the weather-shortened special and, in so doing, headed for the finish in Red Square 1hr 08min 12sec behind race winner Yazeed Al-Rajhi.
Frenchman Matthieu Serradori confirmed third place and former rally leader Harry Hunt confirmed the stage win from Spaniard Joan Roma. Russia's Sergei Kariakin finished fourth.
"It's great to reach the finish after our week was beset with several delays and little problems," said Al-Attiyah. "This was not the result we wanted but we lost a lot of time earlier in the race with the differential problem and the drive shaft and we came back strongly at the finish to take second place."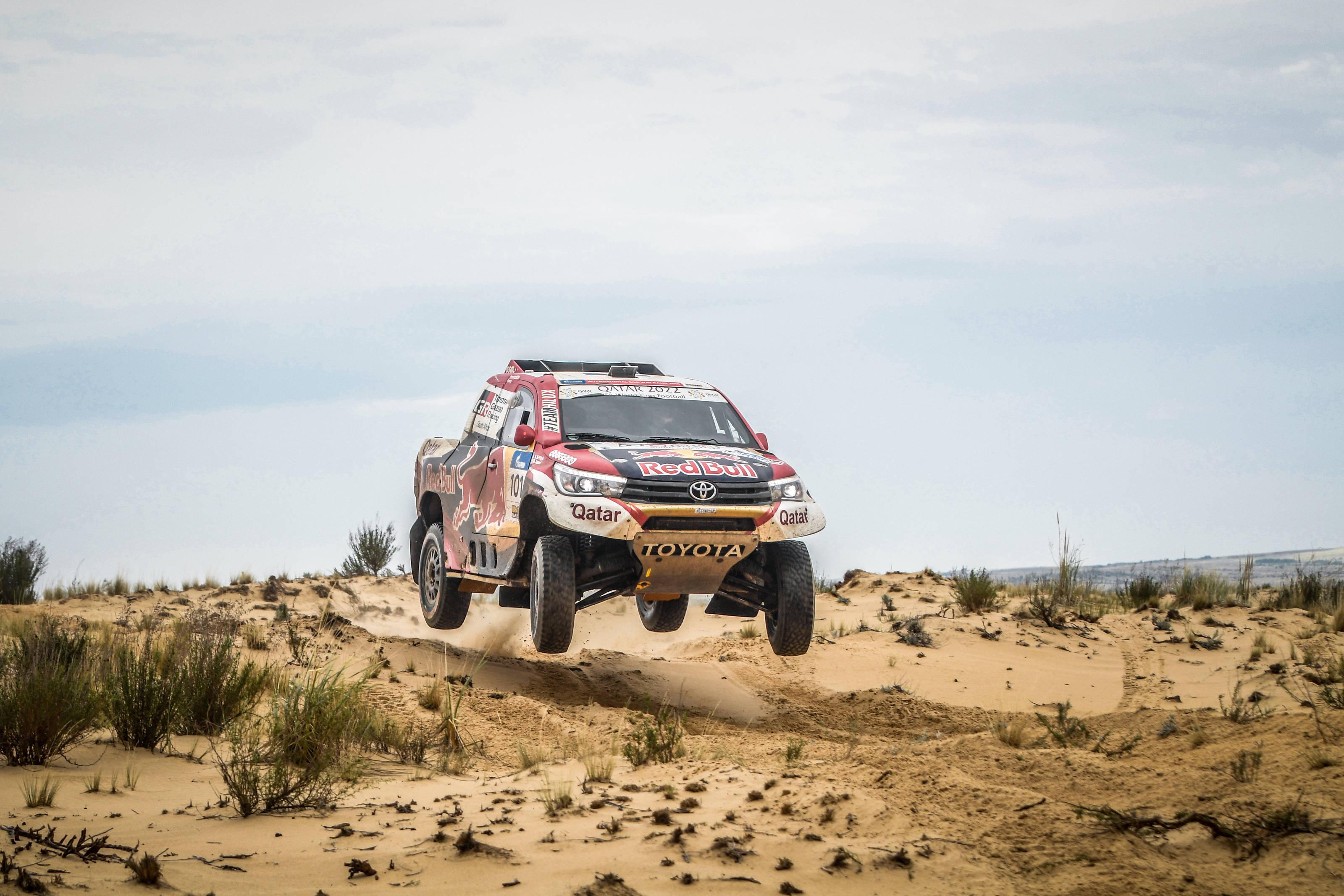 Al-Attiyah's Silk Way Rally challenge ran with support from Red Bull, the Qatar Motor and Motorcycle Federation (QMMF), Ooredoo Qatar and Toyota GAZOO Racing.
Al-Attiyah followed Al-Rajhi into the last of the special stages between Lipetsk and Moscow. But weather conditions in recent days had made one particular water crossing impossible. Race officials decided to start the last 191km section from PC1, after 112km.
Andrey Rudskoy stopped with technical issues after just five kilometres and that put his hold on fifth position in jeopardy. Italy's Marco Piana, who had towed Serradori for 180km on Thursday, stopped to assist the Russian on the 79km finale but he lost over an hour in any case.
Al-Attiyah led from Serradori and Al-Rajhi after 37km, but Al-Rajhi stayed clear of trouble to reach the finish and confirm outright victory with the stage win falling to Hunt from Roma and Al-Attiyah.
2018 Silk Way Rally – positions on SS7:
1. Harry Hunt (GBR)/Sebastien Delaunay (FRA) Peugeot 3008 DKR 49min 54sec
2. Joan Roma (ESP)/Alex Haro (ESP) MINI John Cooper Works Rally 52min 18sec
3. Nasser Saleh Al-Attiyah (QAT)/Matthieu Baumel (FRA) Toyota Hilux Overdrive 58min 02sec
4. Matthieu Serradori (FRA)/Fabian Lurquin (BEL) MCM Original 1hr 00min 32sec
5. Yazeed Al-Rajhi (SAU)/Timo Gottschalk (DEU) MINI John Cooper Works Rally 1hr 01min 34sec
2018 Silk Way Rally – positions after SS7 (unofficial @11.55hrs):
1. Yazeed Al-Rajhi (SAU)/Timo Gottschalk (DEU) MINI John Cooper Works Rally 23hrs 49min 14sec
2. Nasser Saleh Al-Attiyah (QAT)/Matthieu Baumel (FRA) Toyota Hilux Overdrive 24hrs 57min 26sec
3. Matthieu Serradori (FRA)/Fabian Lurquin (BEL) MCM Original 28hrs 56min 21sec
4. Sergei Kariakin (RUS)/Anton Vlasiuk (RUS) Can-Am Maverick X3 31hrs 22min 27sec
5. Mariia Oparina (RUS)/Taisiia Shtaneva (RUS) Can-Am Maverick X3 32hrs 32min 57sec