· Yazeed Al-Rajhi seals Toyota 1-2 in Qatar; Ten Brinke reaches finish in sixth
LUSAIL (QATAR) – Tuesday, February 26: Qatar's Nasser Saleh Al-Attiyah and his French navigator Matthieu Baumel confirmed a start-to-finish victory in the Manateq Qatar Cross-Country Rally, the opening round of the 2019 FIA World Cup for Cross-Country Rallies, at Lusail on Tuesday.
A sixth win for the Qatari and a fifth for the Frenchman since the event joined the FIA series in 2012 (Al-Attiyah won the 2011 Qatar International Baja as well) also marked a fourth for Overdrive Racing and Toyota. Al-Attiyah's winning margin was 11min 10sec over Overdrive team-mates Yazeed Al-Rajhi and Dirk von Zitzewitz in a second Toyota Hilux.
"I am quite happy to win my rally in Qatar seven times," said Al-Attiyah. "This is nice for the championship. I took it easy this morning with no risks. We did a good gap over the last four days and we just needed to finish without any problems."
Baumel added: "It's never easy in Qatar, but one of the big differences is Nasser's experience and knowledge here. He knows very quickly to choose the direction from what I am saying. It's a very satisfying win, especially for Nasser, Qatar and the start of our championship.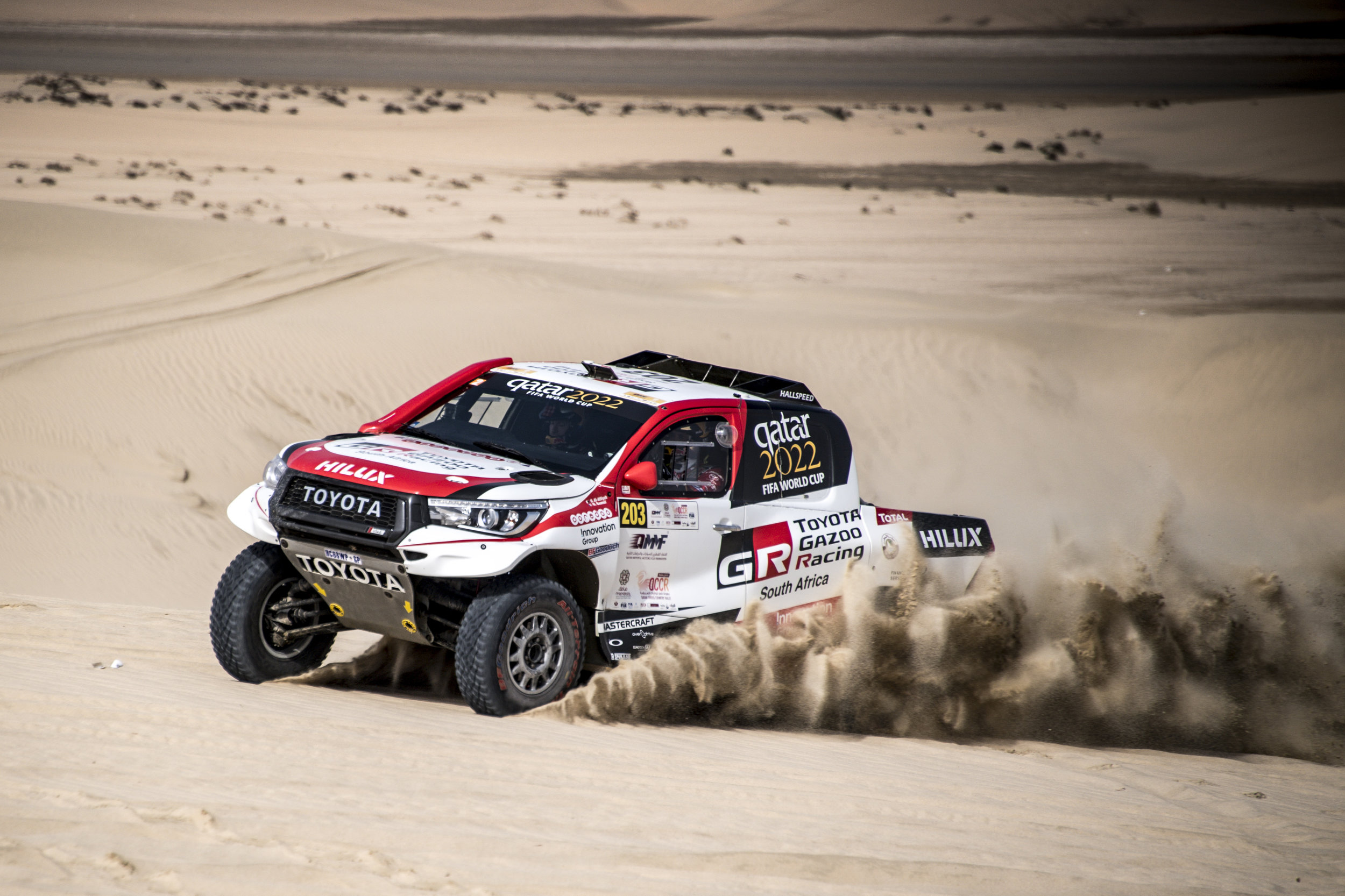 Al-Rajhi came under severe pressure from the defending FIA World Cup champion Jakub 'Kuba' Przygonski over the closing kilometres and held on to second place by the margin of just 46 seconds after over 13 hours of racing.
Dutchman Bernhard Ten Brinke and Belgian co-driver Tom Colsoul lost time early in the event with navigational issues, but bounced back strongly from 11th place to reach the finish in sixth overall in the third Toyota.
"We may not complain about this result after day two and day three," said Ten Brinke. "This is not the result that we hoped for but, okay, six is okay and two times we were P2 on the stages. We are happy for now."
Jean-Marc Fortin, CEO of Overdrive Racing, said: "It is a great start to the season and a fantastic way to follow Dakar. Nasser was the fastest on the stages. We came for it, that is for sure. It's great for the team, because we didn't get much of a break before the race after Dakar.
"I am also proud to welcome Yazeed back into the team. Second place after a big fight with Kuba (Przygonski) was a really positive result for him. Bernhard we knew, after the first day that it would be difficult. It was a bit up and down, but we have seen that, when he is on the pace, he is a fast driver. We had a strategy this morning for Kuba. Yazeed started in front and was in control. As soon as he caught him, Yazeed still had 1min 12sec in hand to make the job with no punctures and no problems. We were not pushing too hard."
The Toyota trio made the perfect start and Al-Attiyah managed to overtake stage opener Jakub Przygonski near the finish of SS1 and edge into a 3min 05sec advantage over his Dutch team-mate Ten Brinke. Al-Rajhi was content to acclimatise to the new car and working with his new navigator and the pair were third, the position enabling the Saudi to follow his two team-mates into the longer second selective section of 323.58km.
Al-Attiyah led from the front through the second stage and overcame an early flat tyre and the demanding navigation to claim a second successive stage win and extend his lead over second-placed Jakub Przygonski to 8min 03sec.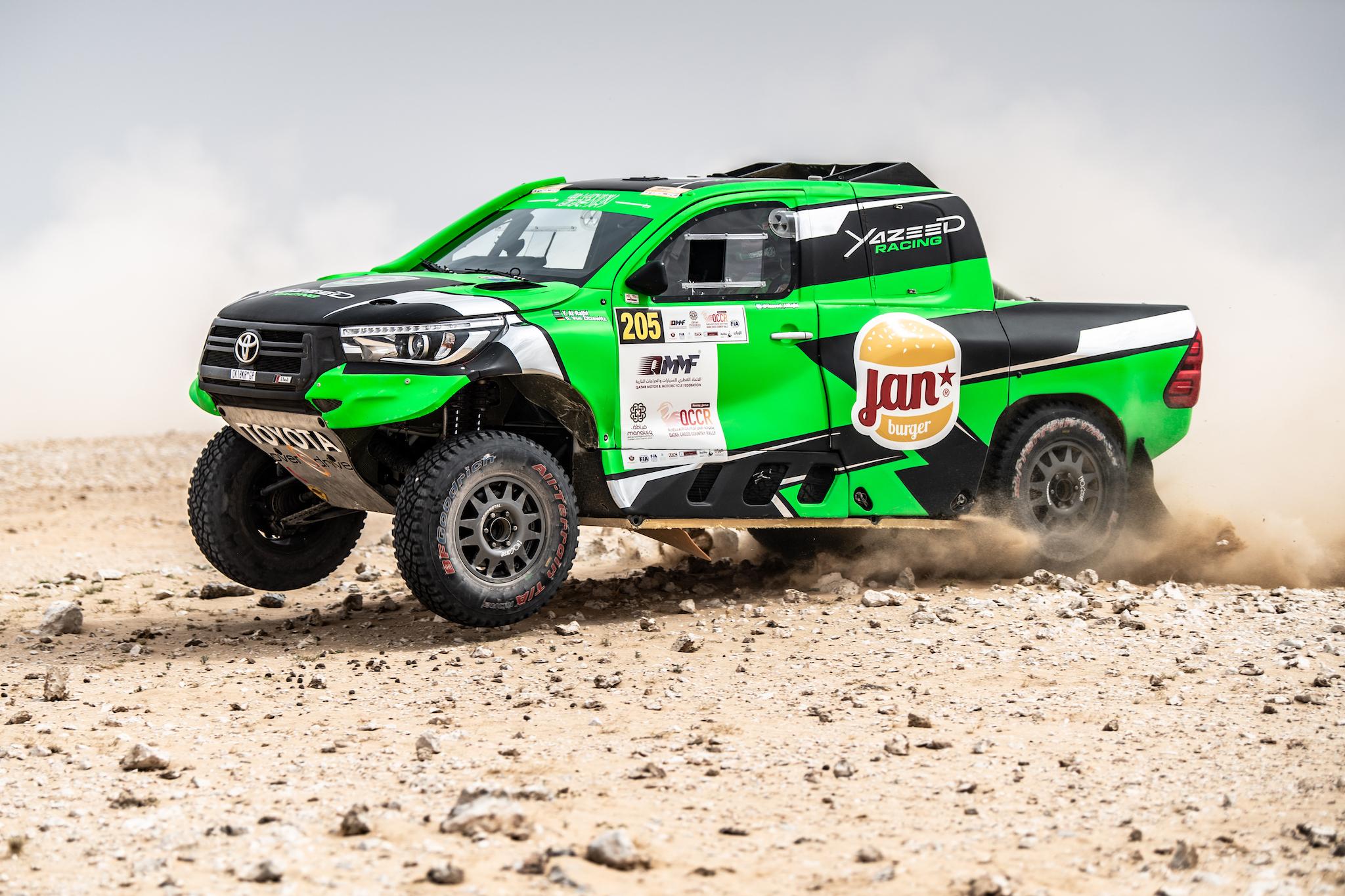 Al-Rajhi and Ten Brinke also suffered from flat tyres: the Saudi retained third overall, despite two punctures, but the Dutchman endured three punctures and was badly delayed with a broken steering arm. He eventually lost over two hours and slipped to 11thoverall.
"Some days you win and some you lose and that cost us all chance of the podium," said co-driver Colsoul. "In the dust of another car, we hit a stone and had some damage on the car. We fixed it and lost a lot of time."
The third stage was the longest of the entire event with 351.98km of competition and included the first series of dunes close to the Inland Sea, south of Doha. Al-Attiyah survived one delaminated tyre and avoided any navigational mistakes to claim a third successive fastest time and extended his outright lead to 9min 52sec.
Al-Rajhi passed rival Przygonski to claim the second fastest time and give Toyota a 1-2 at the top of the leader board. Ten Brinke suffered navigational delays, but climbed from 11th to seventh as many of his rivals hit trouble.
Al-Attiyah and Al-Rajhi shared a stage win apiece on leg four, with the Qatari finishing the day with a comfortable lead of 12min 33sec and the Saudi rueing three flat tyres that cost him valuable time on the first one. Ten Brinke was back in the zone and was second and fourth on the two specials and climbed to sixth in the rankings.
The final stage ran from the western coast, across the north of the country and back down the eastern shoreline to finish north of Al-Ghuwayriyah. Al-Rajhi was on the defensive and the second fastest time enabled the Saudi to retain second position, as Al-Attiyah coasted to the win and Ten Brinke conserved sixth place.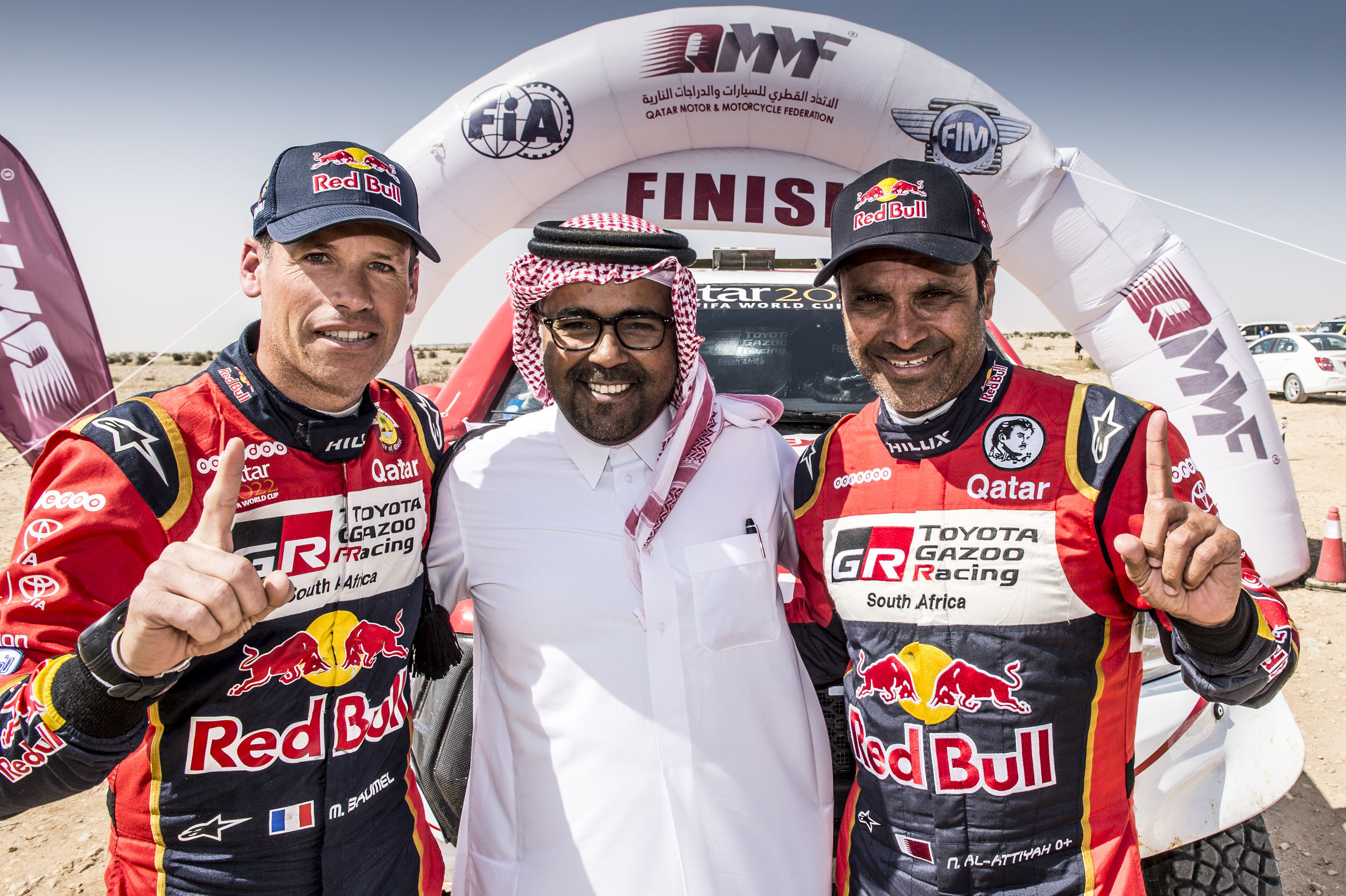 2019 Manateq Qatar Cross-Country Rally – provisional results (unofficial @14.00hrs):
1. Nasser Saleh Al-Attiyah (QAT)/Matthieu Baumel (FRA) Toyota Hilux Overdrive 13hrs 18min 44sec
2. Yazeed Al-Rajhi (SAU)/Dirk von Zitzewitz (DEU) Toyota Hilux Overdrive 13hrs 29min 54sec
3. Jakub Przygonski (POL)/Timo Gottschalk (DEU) MINI John Cooper Works Rally 13hrs 30min 40sec
4. Vladimir Vasilyev (RUS)/Konstantin Zhiltsov (RUS) BMW X3 CC 14hrs 14min 32sec
5. Yasir Seaidan (SAU)/Laurent Lichtleuchter (FRA) MINI John Cooper Works Rally 14hrs 52min 42sec
6. Bernhard Ten Brinke (NLD)/Tom Colsoul (BEL) Toyota Hilux Overdrive 16hrs 16min 18sec
7. Reinaldo Varela (BRA)/Gustavo Gugelmin (BRA) Can-Am Maverick T3 19hrs 14min 08sec
8. Fedor Vorobeyev (RUS)/Kirill Shubin (RUS) Can-Am Maverick X3 T3 21hrs 47min 20sec
9. Camelia Liparoti (ITA)/Max Delfino (FRA) Yamaha YZX 1000 R T3 23hrs 05min 26sec
10. Eugenio Amos (ITA)/Sebastien Delaunay (FRA) Ford 2WD Buggy 111hrs 09min 38sec